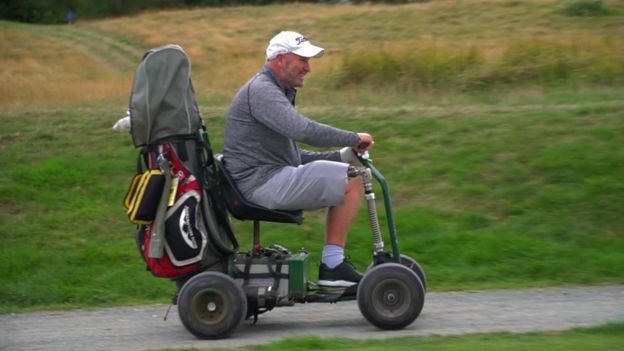 TSGer, Paul Houghton, and his case against Brentwood Borough Council for discrimination (on account of him not being allowed to use his buggy at Hartswood Golf Club) have now been taken on by top lawyer Chris Fry.
The BBC interviewed Paul on 3rd September 2018 and all the major news organisations have picked up on the story that we first highlighted in 2016…
Paul joined The Social Golfer in 2014 and has been an active and welcomed member ever since.
In 2017, The Social Golfer sponsored Paul and fellow disabled golfer Roger Hurcombe, helping them to fund their competitive golf.
Here's what the BBC wrote about Paul Houghton's case….
———————————————————————-
Golfer, Paul Houghton, who is disabled and who uses a prosthetic leg, is suing a local council for refusing to let him play on its course using a buggy.
Paul Houghton's right leg was amputated in 2000 after he was affected by a lethal tissue-eating bacteria.
Mr Houghton learned to walk again – and golf became an important part of life but he still also uses crutches and a wheelchair.
He claims Brentwood Council in Essex discriminated against him but the council is defending the legal action.
Paul is lucky to be alive.
In November 2000, while working as a roofer, he knelt in contaminated water and contracted the deadly flesh-eating bug necrotising fasciitis. It consumes muscle and body tissue at a rate of 0.75in (2cm) an hour.
"The surgeon told me he had to operate immediately," Paul told the BBC.
"He said that he had no choice but to continue cutting until he was certain he had removed all the infected tissue."
"I had just two hours to prepare myself for an operation that at best I would survive with a leg missing, but at worst I would not survive at all."
His right leg was amputated above the knee, and he received the last rites in hospital.
In all, he had five operations – some for skin grafts because his amputation was very rushed and the perfect stump could not be formed.
Paul could not continue to work as a roofer and his business closed.
Paul Houghton – Disabled Golfer – Represented England.
He requalified and now works for Chelmsford Council as its access officer in building control.
He learned to walk with a prosthetic limb and switches between it, wheelchairs and crutches.
However, overuse of the crutches causes shoulder injuries, while the prosthetic leg can cause pressure sores that are difficult to cure.
Paul has represented England at disability golf 13 times, with a handicap of 14, and has played on courses across Europe.
Because of his disability, he needs a buggy in order to play an 18-hole course.
In August 2016, Paul had booked to play a round with a friend at Hartswood Golf Course in Essex.
It is owned and operated by Brentwood Council.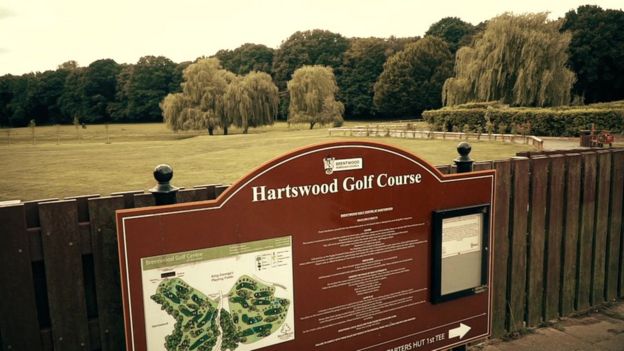 On his way to the first tee, he claims he was told he would not be allowed on to the course without a letter from his doctor justifying the medical need for a buggy.
If he obtained such a letter he was told he would be given a certificate allowing him to use his buggy.
Paul Houghton – Disabled Golfer – What he said.
"I was gobsmacked" he told the BBC.
"I've played over 100 courses around England, I've played all around the world and I've not been treated in this way before."
Paul says he explained that he had his own insurance, a European Disabled Golf Association card, and a medical exemption, but the club insisted that he needed a letter from a doctor to justify the use of a buggy.
"It sends the message that disabled people aren't welcome, that we are not part of society, not included, but are segregated and can't join in a sport that's accessible to everybody, because we need to use other equipment to play the game," Paul says.
In his legal claim, Paul argues that by refusing to allow him to use a buggy without a doctor's letter, the council discriminated against him because of his inability to walk around the golf course.
In effect, he claims the council was applying a policy that indirectly discriminates against all disabled people who need a buggy to play golf.
Brentwood Council denies any discrimination and is defending the legal action.
The council said it was "committed to ensuring safe access for everyone to all its facilities" and would issue a full statement when legal action had concluded.
Paul Houghton – Disabled Golfer – Lawyer's view.
Paul Houghton's solicitor, Chris Fry from the firm Fry Law, said: "This case is more than just about making a service more accessible; it's a reminder of the importance of the benefits which sport brings to social inclusion, together with physical and mental health."
"This is especially important for people with a range of disabilities, and not least mobility impairments."
"A simple adjustment in this case will benefit Paul, and thousands of others in a multitude of ways."
In its "Buggy Use Policy", England Golf, the governing body of amateur golf, says it "wishes to encourage the participation in golf of all players regardless of disabilities".
This, it says, is in accordance with its obligations under the Equality Act.
Cae Menai-Davis, co-founder of the Golf Trust, a charity that works with disabled groups to make golf more inclusive, commented: "Golf is a sport for everyone."
"Making it difficult for a disabled golfer to use a buggy isn't just bad policy, it is bad business."
"There is a huge untapped group of people with learning and physical disabilities that want to play the game and will benefit hugely from it."
---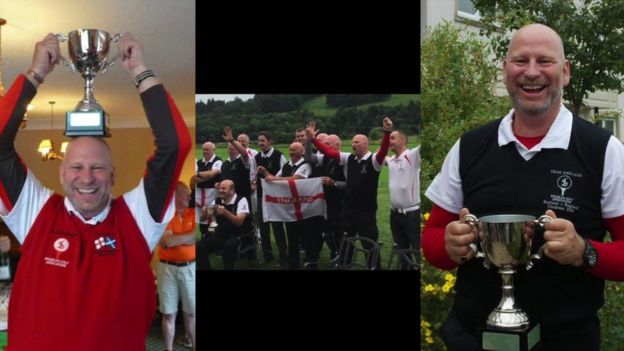 xx
xx
xx
xx
xx
xx
xx
Just some of the new outlets that have covered Paul Houghton in the last 24 hours…