In the first of our two articles on 'Golfing in Vilamoura', we talked about our visits to The Laguna and The Millennium.
In this second of our two 'Golfing in Vilamoura' articles, now read about our visit to the world-renowned Vale do Lobo's The Royal and The Ocean courses...
---
Golfing in Vilamoura – Vale Do Lobo – The Clubhouse…
You know on your way into the resort that you are approaching one of Europe's premier golf destinations.
On arrival at The Clubhouse, pleasant and friendly staff immediately showed us to the Golf reception – an area that gives you an indication of your experience for the day.
That is where we met Daniel who has worked at the resort for 12 years.
Something not unusual among the staff here, as we find out.
In fact, many of the staff have been here for over 10 years which suggests it's a well-run place.
On sharing a coffee in the Players lounge, Dan explains to us that the whole resort, including the two-courses, is roughly the size of Monaco.
Having worked in marketing for some 25+ years, I conclude (given the audience they wish to attract) this is a superb way to promote themselves. Especially if you want to appeal to the European golfers with a high disposable income.
Looking out from the lounge, we have a beautiful view of both the Putting Green and the Grandstand, which gives the place a very grand feel.
However, this theme continues as we take a tour of the facilities.
They have it all covered here including a Private lounge for members, a Spa, an 8-bay driving bay (which is due for a refurb), a gym, snooker area and a yoga studio.
All surrounded by beautiful shady areas, cobbled paths, an outside bar area, scenic views across the sea – somewhere we return to after our round.
The changing room is large, trendy and immaculately clean, as you would expect from a high-end resort.
Dan goes on to tell me that whilst the membership is not cheap at 5,000 euros a year, there are a good 200+ members.
Both the corporate members and tourist day-trippers keep the place very busy.
If you're going to visit Vale do Lobo, make sure you make a full day of it, enjoy the surroundings, the ambience and the friendly staff.
Give your self plenty of time to enjoy the views – and I haven't even mentioned the golf yet…
---
Golfing in Vilamoura – Vale Do Lobo –  The Courses –  The Royal Course…

So, I guess all golfers with a number of years of playing under their belt have a 'bucket list' of courses they want to play.
Having heard about the famous 16th, Par 3, from many friends, 'The Royal' was one golf course I've wanted to play for a while.
However, to focus solely on this hole would do the rest of the course a disservice.
The course starts with some very straight but pretty holes, enclosed by whitewashed villas and I immediately felt at home and encouraged by what was to come.
The fairways are clean, soft and well maintained as you would expect and it's a pleasure to be playing on firm fairways again (we really do have to put up with a lot back in 'Blightly' with its wet, damp and cold conditions) and I feel I will save a few shots today because of it! (I didn't!)
The course is very walkable, despite some big inclines and declines, but there's always a shady area close by under which to cool down.
The stand out hole on the front nine is definitely the 7th hole – 140 yards, 130 yards carry over water (see below) to a slightly sloping green.
Despite a pretty ropey scorecard up to this point, I just make it over and scramble a par, so I am happy!
This is quickly followed by another carry over water on the 150 yards, Par 3, ninth hole. Alas, here I was not so lucky. Splosh!
So, on to the back nine. More picturesque and with a more varied hole layout, the course now gets more interesting.
I won't talk about each hole but I will say it's beautiful, pretty tree-lined fairways and immaculate greens all run quickly.
And as we approach the sea and the Par 3, 16th signature hole, you really do feel you're playing Millionaire's golf!
At this point I must commend the club, as they run a ten-minute tee system, meaning we saw hardly any other golfers until the 17th hole.
If I had any criticism with the course at all, I would say some of the tee boxes could be flatter in places… but now I am picking 'holes'.
This is both a well managed and beautifully presented golf resort, and they couldn't have been more courteous to us.
I will definitely return here.
18 holes – Cost = Approx 100 euros
---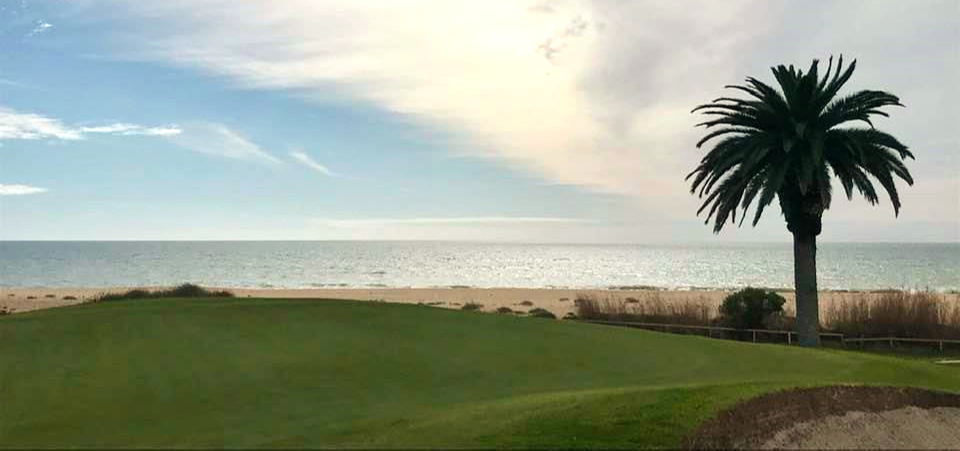 Golfing in Vilamoura – The Courses – Vale Do Lobo – Ocean Course…
Now sadly, this is when I turn to my fellow TSGers for their feedback on the second (and less well-known) course, The Ocean, as I had to head for the airport.
The Ocean Course is composed of the two original 9-hole golf courses designed by Sir Henry Cotton.
The Course features undulating fairways which run alongside a nature reserve, before leading gently down to the shores of the Atlantic.
Its stand out holes are two very testing and spectacular Par 4s – the 11th and the 14th, as well as the Par 3 15th which runs alongside the beach.
Being much newer, this course is more of a challenge, as everyone we spoke to told us… it is a very 'technical' course to play.
I took this to mean longer, more bunkers, more wind and faster greens and they were right.
However, both the team reported back having enjoyed another sunny day on the fairways and in the bar (see picture) and having enjoyed the course hugely.
The good news is, I know I will be returning to the area again soon, so I will make the effort to revisit this Mecca of golf.
18 holes – Cost = Approx. 100 euros
---
By Ian Mullins